4ft letter lights
prices from £120 inc. VAT
4ft letter lights in Plymouth, Devon & Cornwall
hire our giant letter lights and numbers
Our Letter Lights stand at an incredible 4ft tall and offer a a truly stunning backdrop for any wedding, party or event. Our letter lights are made from 18mm MDF and stand at 4ft tall and just under 3ft wide. Each one is made with total care and attention by a master craftsman who knows his trade well. They are finished in matt white paint and house 3W LED Golf Ball bulbs which produce all the light you need.
Because we make all of our lights in our Plymouth based workshop we now stock around 60 letters and are proud to say we offer more than just LOVE.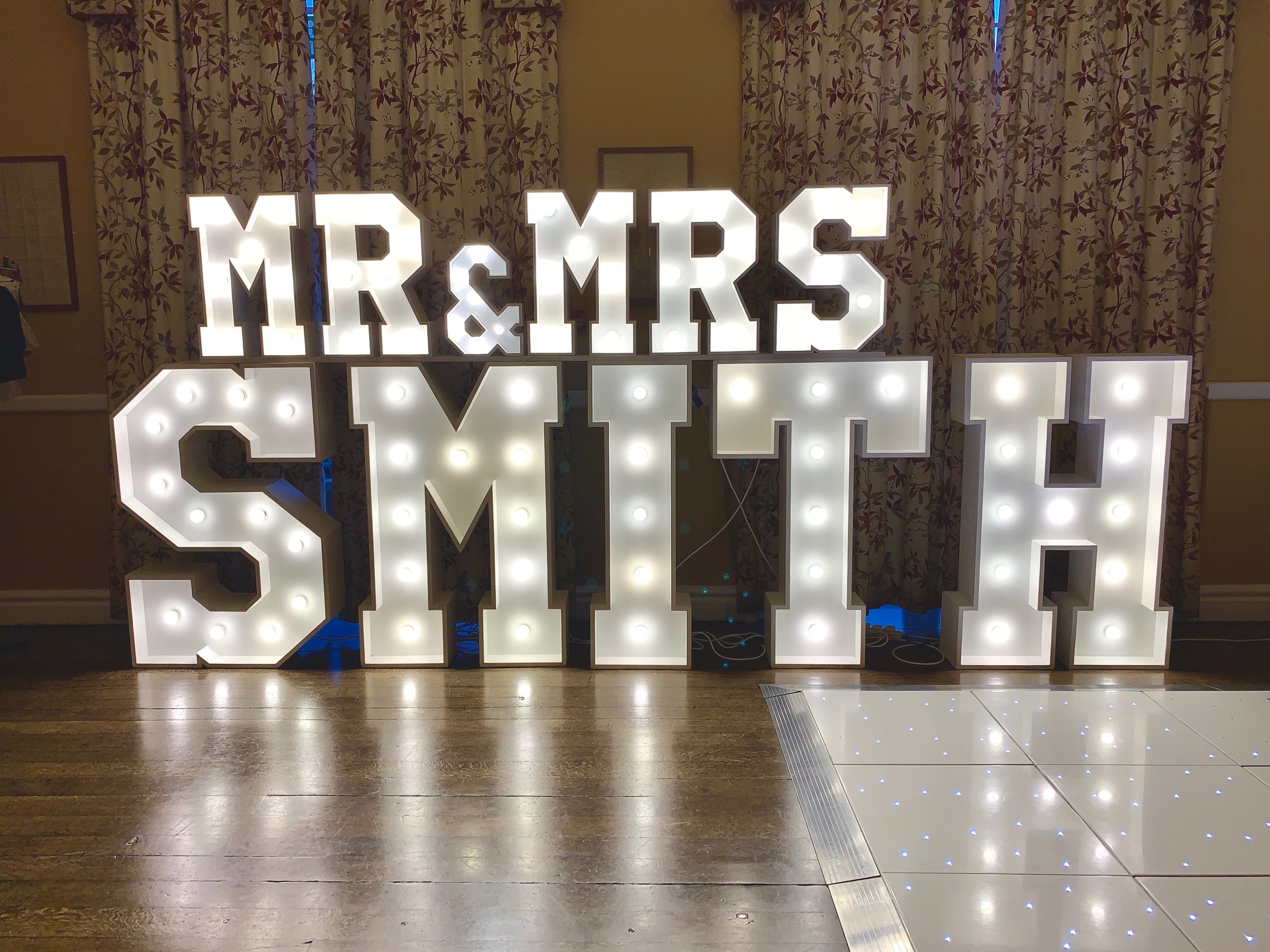 Letter Light options + Prices
Our stunning 4ft Letter Lights can be positioned anywhere that has a flat surface. You let us know where you'd like them and we'll give them pride of place at your venue.
Any 2 Letters – Eg. 18, 21, 30, 40, 50, 60, 70 etc. - ONLY £120

Any 3 Letters – Eg. J & H, I DO, WOW - ONLY £180

Any 4 Letters – Eg. LOVE, WE DO - ONLY £200

Any 5 Letters – Eg. MR & MR, DANCE, PARTY - ONLY £250

Any 6 Letters – Eg. MR & MRS - ONLY £300

Any 7 Letters – Eg. MRS & MRS, HITCHED - ONLY £350

Mini MR & MRS + Your Surname - PRICE ON REQUEST
All prices are inclusive of delivery, set up and collection within 30 miles of Plymouth. If your venue is outside of our range, additional set up/travel fees will apply.
LETTer lights ENQUIRY FORM
To help us give the most accurate quote and availability please complete the form below.
HOW TO BOOK YOUR WEDDING ENTERTAINMENT
Enquire Now with details of your wedding day (date, location(s) & which package you're interested in).
To secure your booking, Crown Entertainment require a 25%* which is payable within 7 days of accepting the quote.
You will then receive a booking form which requires completing along with reading and accepting the Terms & Conditions.
Twelve weeks before your wedding day you will receive a questionnaire to discuss timings, song choices and general event logistics.
Eight weeks before the wedding day a final balance invoice will be emailed to you. This must be settle no later than 8 weeks before the event.
If required we will hold a final face to face meeting with you in our shop and showroom in Plymouth.
See you on the day!
Check out our Letter Light Reviews